Attainia Training Webinars for PLAN, BUDGET, and PREDICT
Need help on a specific function or just looking at brushing up your PLAN, PREDICT, or BUDGET skills?
Attainia Training Program
Learning a new software program can be daunting.  Get up to speed on projects quickly with the Attainia Customer Success training program.  The Attainia training program is action packed over 4 weeks with 8 webinars to get you started and weekly open office hours to consult the experts.
PLAN Tips and Tricks: Selection Fields
Tuesday, 5/1/18 at 11 AM PST
PLAN users have the ability to add an additional level of detail customized for their specific project/organization by utilizing the Selections fields.
This training will cover:
What selection fields are available

How to create selections in the Admin Tab

Setting the Selections "Scope"

PLAN Tips and Tricks: Templates and Copy Feature
Thursday, 5/3/18 at 11 AM PST
Are you building a project and want a quick way to get started? The Attainia Templates in PLAN will allow you to add entire departments with all associated rooms and items at once.
This training will cover:
Which Templates are available

How to add a Template to your Project

Utilizing the Copy/Move function to add previously built projects, departments, rooms, items to a new project
PLAN Tips and Tricks: Mass Changes
Thursday, 5/8/18 at 11 AM PST
The inital equipment list has been reviewed in user group meetings, but requires a global change for specific products. How do you change a single product across an entire project and/or multiple project rooms? Get the most out of Attainia, by making mass changes.
Explore mass changes across a single project and multiple rooms –
Increase efficiency within Attainia's PLAN application
Attainia Customer Success: Open Office Hours
Wednesdays in May (2, 9, 16, 23, 30) at 11 AM
Do you have questions about PLAN, BUDGET, or PREDICT?  Come to Attainia open office hours and ask your friendly Customer Success Expert.
PLAN Tips and Tricks: Searching and Filtering
Thursday, 5/10/18 at 11 AM PST
Whether your project is in the initial planning stages or you need to drill down into specific product data, searching for products in the catalog with filters will save you time.  This training will cover:
Best practices for searching for products using the filters.
Examples will include the data sheet report
PLAN Tips and Tricks: Product and Item Types
Tuesday, 5/15/18 at 11 AM PST
Once the project has been created and departments and rooms have been added, its time to add items.  What's the best way to search the Attainia catalog? What if the product I'm looking for is not in the catalog and what if I'm not sure what manufacturer and model I want to use? This training will cover:
Adding products from the catalog
Creating custom products
Adding "generic" products
PLAN Tips and Tricks: Setting up Procurement
Thursday, 5/17/18 at 11 AM PST
Once a project has been validated and it is time to order equipment, the procurement process begins.  The Attainia Procurement functionality will help in this process.  This training will cover:
Setting up procurement
Creating purchase orders
Adding items to existing purchase orders
Issuing POs and PO export
Leveraging Simulations to Reduce Change Orders in Your Healthcare Construction/Renovation
Lean management may be a given when it comes to healthcare construction but the need to ensure to decrease change orders still remains. Like cooking a multi-course meal, tasks must be started in a certain order and if a component or set of materials isn't available, it can have consequences for other systems, from HVAC to imaging equipment. Accurate simulations prior to breaking ground are critical in order to limit overruns.
Managing Medical Equipment Requirements Throughout the Construction Phase
One report projects hospital construction will follow its upward trajectory over the next two years, hitting $8 billion in annual spending for new construction and $9 billion in renovation costs. What's the main reason for this steady growth? "Healthcare facilities must continuously upgrade their equipment in order to stay competitive," according to Health Facilities Management.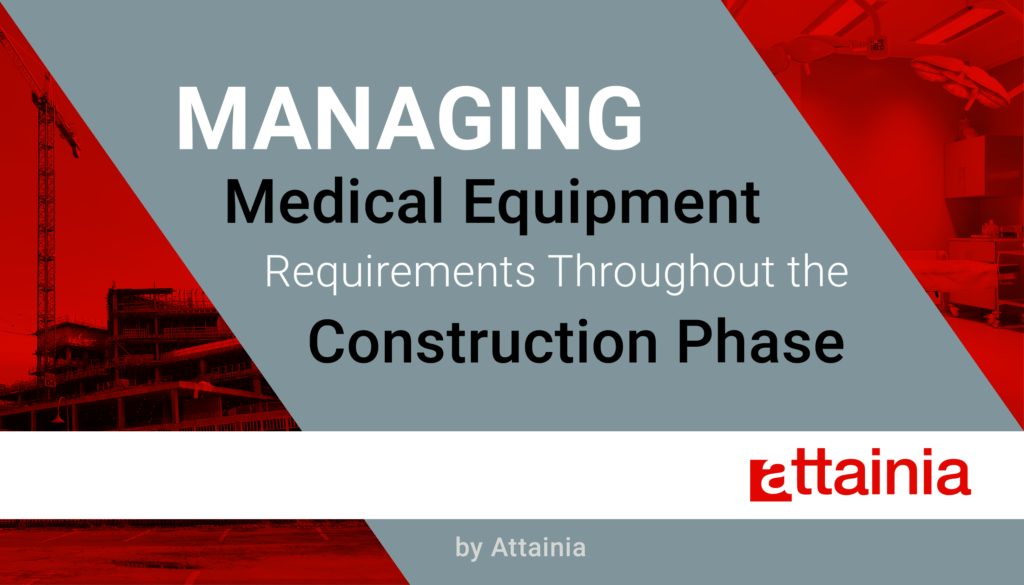 Dan Humphrey - Memorial Hermann Health Systems
"Attainia's capital equipment budgeting software has helped Memorial Hermann Healthcare System progress towards building the most efficient supply chain of any major health system."